Sometimes our suppliers don't do a good job on packaging.  After we address their packaging and our requirements, we generally accept this inventory and make it available for sale as a second.  These shovels has very small imperfections and/or scratches.  
We call it a good deal... there's never any waste in the DMOS supply chain as our tools are that well built that our seconds are darn near the competition's firsts.
↓ Jump to:
See It On Builds
|
Tech Specs
Money-Back Guarantee
We know you need to get DMOS in your hands to really get it. That's why we offer a 30-day money back guarantee on unused gear, no questions asked.
Ironclad Warranty
We stand behind our products with our 5-year warranty. If there is a manufacturing error, we will make it right. If your order qualifies for warranty, you can send it in to us to fix or repair.
Made in America
We were founded with a commitment American manufacturing and a strong belief in toughness as the defining character of tools built to enable our wildest adventures.
Folds Like a Butterfly, Digs Like a Beast
Introducing the DMOS Stealth Shovel, the award-winning do-anything, go anywhere shovel.

Born on Kickstarter and beloved by extreme athletes and survival experts alike, the Stealth Shovel is both full-sized and fully collapsible. The 56" long telescoping handle locks into the shovel head for use or slides into the sides for storage. It's T6 6061 Aluminum construction with teeth makes it tough enough for whatever nature throws your way - and with a bomber 5-year manufacturing warranty, it'll never leave you stranded.
Yes. This is a shovel.
Durable materials - made out of T6 6061 aluminum, it won't bend, break or crack
Versatile design - with a purpose-built toothed blade to move or groom loose material like snow and sand
Compact - perfect for stowing in any backpack, wheel well, trunk or mounting on rigs
Powerful leverage - with a 56" long handle, the Stealth can move 3,886 pounds of force (unlike any other folding tool)
Tough - Compared to any other compact shovel, the Stealth has an oversized 16.25" x 9" blade which means more digging power
Awards, Athletes + Media
Perfect whether you're digging out your vehicle from a snow drift or leveling a camp site, it's easy to see why
Popular Mechanics called it "the Only Shovel You'll Ever Need"
.
Or why
Travis Rice
called the Stealth the
"ultimate terrain-building snow shovel for ski and snowboard athletes."
Or why the International Sports Products Organization named the Stealth
"The Best Winter Hard Good"
in 2016.
Changing Everything a Shovel Can Be.
At DMOS, we weren't happy with the status quo of cheap, disposable shovels -
so we set out to change the game. We did.
Made from American-sourced, aircraft-grade 6061 aluminum for the ultimate durability,
this ain't your daddy's snow shovel.
Mount Up.
The best gear won't do you any good if you leave it at home.

That's why we made custom-fitted mounts for the Stealth to securely fasten your new shovel to any steed, whether it's a truck, snowmobile, ATV, or whatever else you're riding in.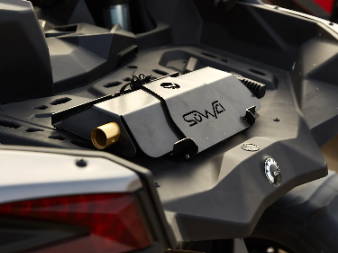 Frequently Asked Questions
Why is this shovel noteworthy?
The DMOS Stealth Shovel was invented in 2015 and, in 2016, won the International Sports Products Organization ISPO Best Hard Goods Award in Munich, Germany. This was a juried competition and the judges saw as hundreds of editors and pros see that this new shape - part rake/part shovel - that is portable and lightweight and super strong. It is the world's best car shovel, off-road/snow shovel, ice-breaking shovel, camping shovel, and even the best shovel for outfitters to use again to prepare a hunting camp. Versatile, durable, lightweight. This Stealth is a powerful tool that is always at hand and never in the way.
How strong is this shovel?
The Stealth is made out of Aircraft Grade 6061 Aluminum and has been tested to withstand 3,886 pounds of force on the end of the blade while holding the shaft in place. Given that the world record RAW deadlift is 1,015 lb (460 kg), we've got you covered. The Stealth has also been tested in the field to break a 500 lb block of ice from an overhead swing and not break under that force.
Where is the DMOS Delta Shovel made?
Our shovels are designed and made in the U.S.A. Our original design team is all Jackson Hole-Wyoming based and we like to say that our designs are Wyoming strong.
Can I get my money back if I am not satisfied?
YES! We're confident you'll love your DMOS products, but, if for some reason you are not completely satisfied, we will accept your unused DMOS Stealth Shovel back with NO QUESTIONS ASKED. Just contact DMOS customer service at customerservice@dmoscollective.com and we'll get that process started for you.
Is there a warranty on the shovel in case it breaks?
YES! We stand behind our products. Period. We offer an ironclad 5 year warranty against all manufacturing defects, defects in materials, or design failure in the field when used as a hand tool. DMOS stands for quality and takes the performance of our products seriously. When you buy DMOS, you give us your trust and we earn it everyday by our commitment to designs that won't fail you in the field and quality production that you can count on.
What makes the DMOS Stealth Shovel special?
The DMOS Stealth Shovel is designed to give you a full-sized, powerful tool that solves the biggest digging problem which is that sometimes you have to dig and you don't have a shovel with you. That sucks. We've been there. That's why we set out to make a shovel into a tool that is always at hand and never in the way, and offers superior functionality and full-sized power when you need it. And, solve it we did. We have hundreds of 5 star reviews and this shovel has been on The Today Show as well as in Popular Mechanics, Men's Journal, Transworld Snowboarding, Freeskier Magazine, Esquire, Outside Magazine, 4x4 Magazine and more. It's simple design is incredibly powerful and it's 56.5" long, four-part interlocking handle makes the Stealth Shovel a beast of a tool that is built to last and be handed down. The DMOS Stealth Shovel is there when you need it and the DMOS Stealth Shovel won't fail you.
Blade: 3mm thick 6061 aluminum
Shaft - Satin black anodized, 2 mm thick 4 part indexed locking telescoping shaft with 3" overlapping segments
Stainless steel formed spring pins
Nylon Zytel T-grip and Connector
Available in powder coat finish
Rated from -40 Degrees to 170 Degrees F
Withstands 3886 lbs of Force
Maximum length 57" long. Optional adjustment lengths of 47" or 35"
Dimensions:

Collapsed: 18 x 9 x 2.25" (or 61 cm x 28 cm x 8 cm)
Extended: 51" (or 130 cm), 47", 35"
Weight: 3 lbs 5 oz