Introducing the Stealth XL: formerly known as the DMOS Alpha Expedition Shovel, it's the bigger, badder brother of the DMOS Stealth Shovel.  All the great features you love, with more volume to get the job done.
The bulldozer of shovels. The Stealth XL is perfect for moving serious volume on the biggest jobs. Designed with a serrated blade, it can rake and scoop for optimal use - whether you're clearing a driveway or digging out a vehicle.
↓ Jump to:
See It On Builds
|
Tech Specs
Money-Back Guarantee
We know you need to get DMOS in your hands to really get it. That's why we offer a 30-day money back guarantee on unused gear, no questions asked.
Ironclad Warranty
We stand behind our products with our 5-year warranty. If there is a manufacturing error, we will make it right. If your order qualifies for warranty, you can send it in to us to fix or repair.
Made in America
We were founded with a commitment American manufacturing and a strong belief in toughness as the defining character of tools built to enable our wildest adventures.
For Anywhere. For Everywhere.
Built to be as useful on the job site as it is out in the elements, we designed our Stealth XL shovel to be the bulldozer of shovels. A max-volume scoop, begging to dig you out of snow or sand, is paired with the strength of aircraft-grade aluminum and the portability to go anywhere.
Built to work.
Find out for yourself why New York magazine called the Stealth XL a "lightweight, yet super tough, aluminum shovel [that] can lift as much weight as you can handle," and still be "strong enough to break up stubborn chunks of ice."
Made to Be Tough
Our Stealth XL is crafted from aircraft-grade 6061 aluminum, which makes it lightweight and easy-to-use. Made to withstand 3800 pounds of force, you can easily crack ice in your driveway as well as you can move mounds of sand or snow.
Mount Up.
The worst mistake you can make with a shovel is not having it on hand when you get stuck or need to dig in. Our rattle-free, lockable mounts are constructed with 6061 aluminum and designed to mount to either roof racks, spare tires or truck beds.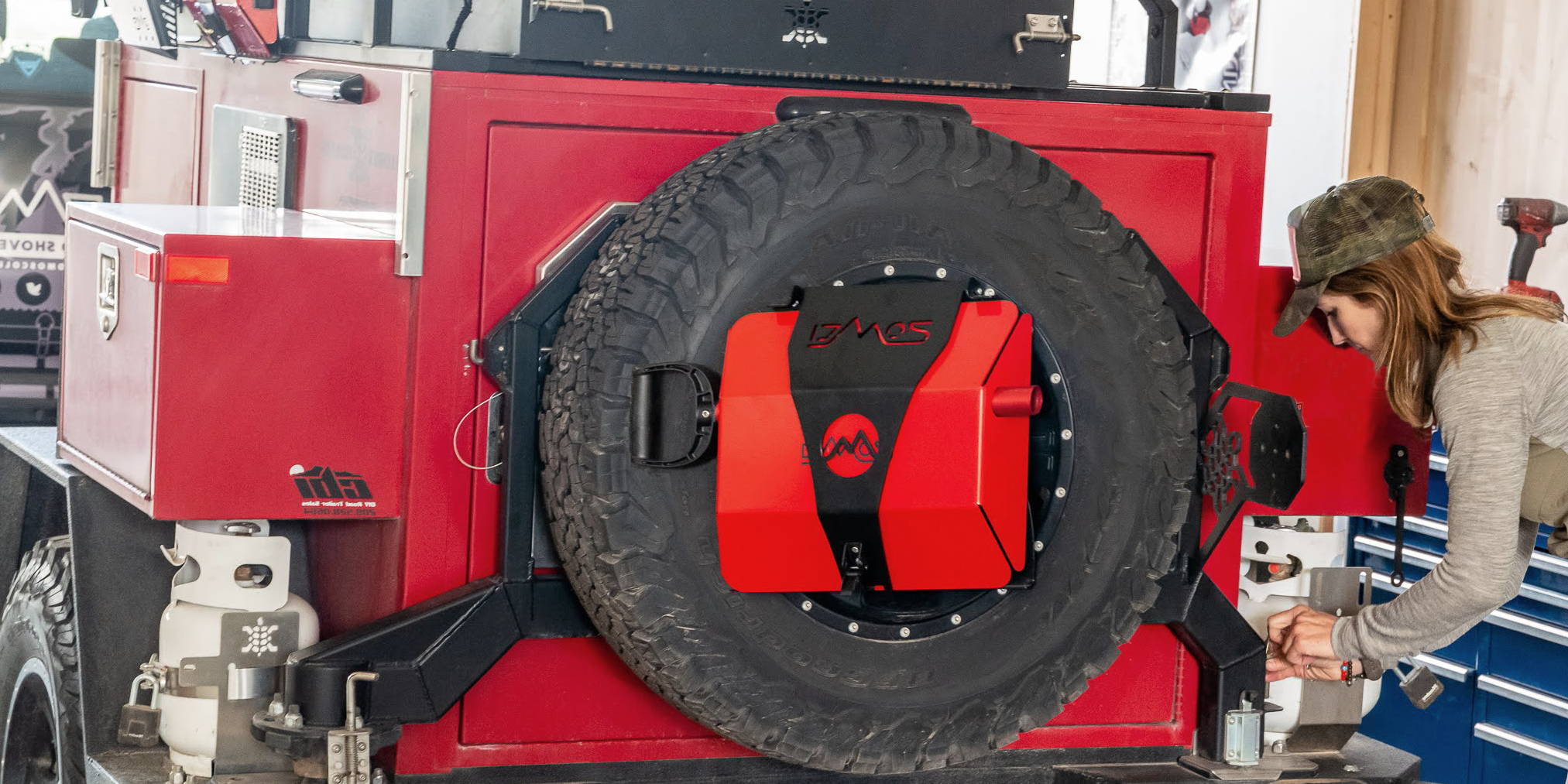 See It On Builds
Tech Specs
Blade: 3mm thick 6061 aluminum
Shaft - Satin black anodized, 2 mm thick 4 part indexed locking telescoping shaft with 3" overlapping segments
Stainless steel formed spring pins
Nylon Zytel T-grip and Connector
Rated from -40 Degrees to 170 Degrees F
Withstands 3886 lbs of Force
Maximum length 57" long. Optional adjustment lengths of 51.5" or 39.5"
Weight: 4 lbs 6 oz
Dimensions:

Collapsed: 21.5" x 14" x 3" (or 61 cm x 28 cm x 8 cm)
Extended: 57" (or 130 cm), 47", 35"